KanguruClone™ M.2 NVMe SSD Duplicator Info Sheets
Downloadable PDF Resources
Feel free to download and share this information with others. If you would like to request more specific information or discuss more product options, please feel free to contact us. Please note that the PDF may not display correctly in your browser window, but will be fine after download.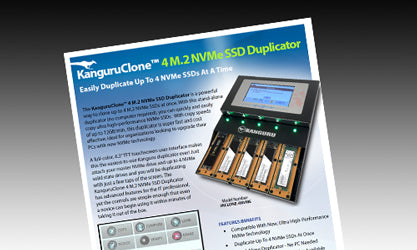 KanguruClone™ 4 M.2 NVMe SSD Duplicator
This high-speed, stand-alone duplicator can clone up to 4 ultra high-performance M.2 NVMe SSDs at once. Upgrade your PCs with new NVMe technology with this ideal NVMe SSD duplicator.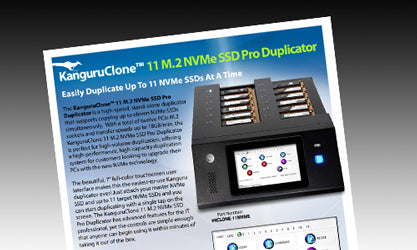 KanguruClone™ 11 M.2 NVMe SSD Pro Duplicator
Easily duplicate up to 11 SSDs at once with this high-speed, stand-alone duplicator. With a total of twelve PCIe M.2 sockets and transfer speeds up to 18GB/min, the KanguruClone 11 M.2 NVMe SSD Pro Duplicator is perfect for high-volume duplication.
Kanguru Hard Drive Duplicators are perfect for IT work, backing up hard drives, data wiping, large PC deployments, drive testing and more. These high-speed, stand-alone units do not require a computer, and make hard drive duplication a breeze.
Proud Manufacturer of Quality IT Products
Highly Secure, Government-Certified Flash Drives
Highly Secure, Government-Certified External Drives
Quick & Easy-to-Use Duplication Systems
Convenient USB Devices
Remote Management Tools
Presentation Tools
Optical Drives
Learn More